Prostate Massage Therapy and Sonic Prostate Massager
One treatment for non-bacterial disorders of the prostate such as chronic prostatitis and congested prostate is prostate massage. Some urologists believe that the most effective treatment for such prostatitis is for the doctor to massage the prostate at regular intervals. Other urologist are far less enthusiastic about this procedure, and some do not believe in it at all.
4 most critical variables (manageable) you have to maintain in order to stay sexually and mentally active after age of 30.
Testosterone level
Level of your Thyroid Stimulating Hormone
Fluids flow in your prostate Gland or balanced pressure in Prostate Gland
The PC or pubococcygeus muscle condition
In order to make fluids flow in the prostate gland and surrounding areas you have to run daily about 1 hour or walk 3-4 hours, this will keep fluids flowing consistently, preventing the prostate gland form being congested. The problem is: if it is already congested, running or walking is not enough to restore fluid flow. We start to lose muscle after the age of 30, and we'll lose roughly one third of our muscle mass between the ages of 50 and 80. Muscles surrounding the prostate are not excluded from this Statistics. After age of 30 you have to increase your exercise time to get the same amount of blood, and fluids running through the prostate gland. What about age of 40, 50 etc. How long you have to exercise to keep your fluids running?
During 1 hour running process your body and prostate gland are receiving 9000-20,000 micro vibrating waves. We have measured vibrating mode, frequency, wave length etc. during regular running or jumping process to develop limits which are considered safe for your body in prostate gland area.
Our device is a combination of mechanical pressure and sonic waves with frequency 9000-20,000 micro impulses per minute, will restore fluids flow in prostate gland and surrounding areas even if regular fitness does not work for you, with probability of success 85%.
Our Know-How -Technical Field
The present invention relates to apparatus and methods for the treatment of prostatitis. More particularly, for massaging the prostate gland, anus, lower colon and surrounding muscles. Know-How we developed during testing, waves channel design, sonic and vibro waves shaping, makes our product unique and well protected from copying.
90 degrees assembled massaging head extended specially to reach lower colon area-just opposite from prostate gland.
How it works – Internal Massage

Insert massaging head in to anus, (using lubricant), keep massaging head straight inserted 15-20 sec, during this period of time anus muscles will relax, move massaging head in to lower colon area for 60-120 sec. It will improve lower colon muscles and will keep lower colon open to allow better gases circulation. It is still Ok to use as prostate massager as well in the same session just move it down in to prostate gland area and keep massaging prostate gland 60sec.The unique vibrating wave technology is designed to relax prostate and relief pain. This device releases micro-vibrations targeted towards activating metabolic processes, stimulating muscle activity and reducing inflammation in the pelvic area. This leads to drainage of blood congestion, restoration of nerve conduction, and greater activation of rectal muscles, anus and prostate.
Expected results
After 10-15 sessions: normal urination, no pain in anus or lower colon area, normal stool, reduction of gases. Colon cancer is the third most common cancer diagnosed in the United States. Most colon cancers (about 70%) are found in the first six feet of the large intestine. The other 30% occur in the last 10 inches of the large intestine One in 19 Americans will be diagnosed with colon cancer in their lifetime, for an overall risk of 5.4%. Although colon cancer affects men and women equally, rectal cancer is more common in men. When colon and rectal cancers are found early, there is nearly a 90% chance for cure.
Tightness in the anal muscles has been found to be the cause of much unexplainable prostate and testicular pain (University of Texas MD Anderson Cancer Center) (rectum). Collectively they are referred to as colorectal cancers.
Our Prostate Massagers target nerve endings restoration in order to address erectile dysfunction and prostate health.
---
HERE IS WHAT OUR MASSAGERS WILL DO FOR YOU:
Improve blood flow in affected muscles surrounding your prostate gland, anus and lower colon areas
Improve lymph fluid flow, which is responsible for cleansing of the blood in the affected areas
Stimulate nerve endings and improve erectile function as well as sexual performance
Strengthen and tones the prostate area muscles, which has lost its function due to age
Improve semen quality and flow
Strengthen bladder control, improve urination flow and relieve pain
---
3-D Sonic Prostate Massager, 2 Functions in 1 (Advanced)
Product Features:
2 massaging heads (internal prostate and colon masage and Kegel colon massage)
Micro-pulsations more potent
96% of surveyed users have reported noticeable improvements within 5 weeks of use
Price: $59.00 US + S&H
"It is most significant tool we ever tested, which provides real noticeable results in 4-5 weeks time and it's required just 2-3 minutes of your time per week"
– Dr. V.Skrypnyk. Ph.D Adavanced Canadian Engineering Group.
Do it two-three days a week and make it your simple ritual! Don't wait any longer and take charge of your health. If you have been suffering for years, even if your condition is chronic and even if you have given up to find the cure you must try this! And be on your way to restoring your prostate health!
If for any reason you are not satisfied with your results, we'll refund your money within 180 days!
---
Additional Product Information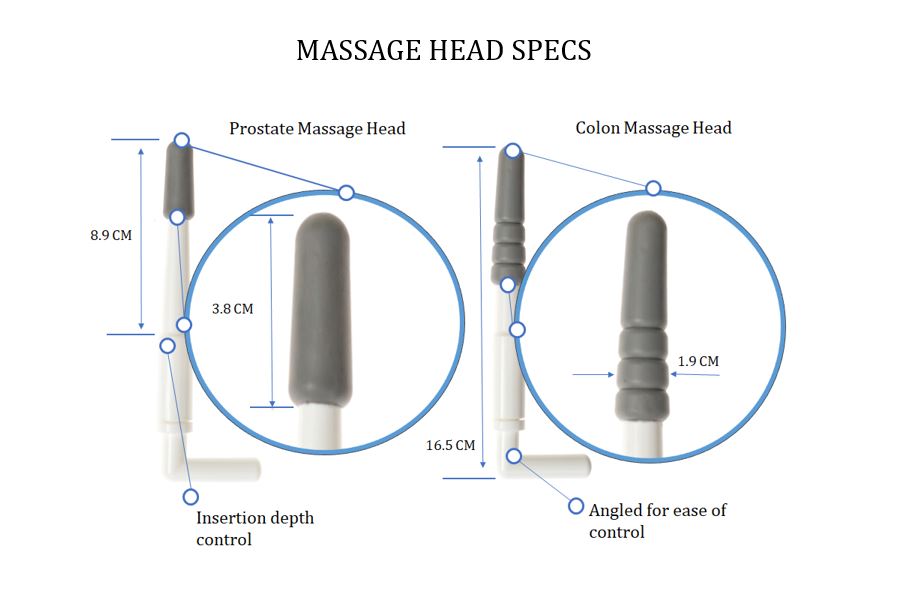 Ask your doctor if prostate massage is right for you and try it!
If you have been suffering for years, even if your condition is chronic and even if you have given up to find the cure you must try this! And be on your way to restoring your prostate health!
IF FOR ANY REASON YOU ARE NOT SATISFIED WITH YOUR RESULTS, WE'LL REFUND YOUR MONEY!
TRY IT RISK FREE!
BONUS WITH PURCHASE!
During current promotion (limited time offer) your purchase will include a BONUS eBook: "The Prostate Massage Manual: What Every Man Needs To Know For Better Prostate Health" by Prostate Health Expert – Ronald M Bazar – a great guide to prostate health and massage treatment.
Ronald M Bazar
Educated at McGill and Harvard Universities, Ron Bazar has over 40 years of experience as a natural foods and health insider and is a subject matter expert when it comes to prostate health.
---
What Health Experts Had to Say About Sonic Prostate Massager
---
Disclaimer and Privacy.
Our products are not medical devices, These products are not intended to "diagnose, treat, cure, or prevent any disease," because only a drug or medical device can legally make this claim.
We do not accept any liability to any person or persons for loss or damage which may arise from the information contained in product description or images. Products obtained from this website are purchased at the customers own risk and advice from a qualified medical practitioner should be sought if you have a pre-existing medical condition. We retain the right to change the pricing of any product at any time and to refuse orders, which contain products that are priced incorrectly
Medical Disclaimer.
All product descriptions and/or any advice given either on the website, telephone or via email should only be used as a guide and further guidance from a medical professional should be sought if you are intending to use any of the products purchased from this web site. We accept no liability nor responsibility for the claims of the manufacturer nor do we accept any responsibility if the stated dosage or terms of use is exceeded or not strictly adhered to.